---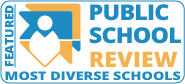 Congratulation! Sanislo Elementary is ranked on the Public School Review "Most Diverse Schools in the U.S list".
As the United States becomes a more culturally and ethnically diverse nation, public schools are becoming more diverse, too.
Students who attend schools with a diverse population can develop an understanding of the perspectives of children from different backgrounds and learn to function in a multicultural, multi-ethnic environment. Sanislo is proud to be looking to a bright future with a culturally diverse outlook.
(03/2016)